This proposed flag from Brady Ells includes the lymphad vessel, typical of the locality, from the Renfrewshire County Council coat of arms
In the style of the flag of Jersey,

the lymphad is positioned over a blue and white checked saltire. These Stewart checks against a yellow field, also present on the council arms, are an evident local theme, further featuring on the arms of burghs across the county, including; the Royal Burgh of Renfrew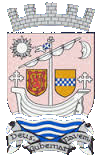 , granted in 1676;
the Burgh of Paisley,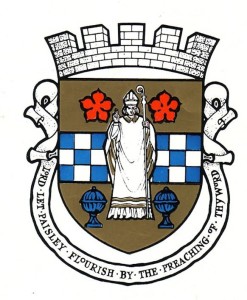 granted in 1912;
the Burgh of Gourock;
granted in 1954;
and the Burgh of Johnstone,
granted in 1955
Taking inspiration from the checked cross on yellow background of the latter design, the proposed flag similarly reworks the Stewart checks as a cross, although in the more obviously Scottish form of a saltire, referencing the national flag. Use of a saltire on a Scottish county flag,
mirrors the appearance of regular crosses on the flags of several English counties, referencing England's national Cross of Saint George.
The white ship on blue field in Philip Tibbetts's proposed flag for this county also derives from its usage
on the council arms. On the flag, the blue further serves to symbolise the area's earlier name of Strathgryffe, after the River Gryffe that flows from west to east in the county. Additionally, this wide blue middle stripe between the two yellow ones, recalls the arms of the famous Stewart clan who originated in the county; again seen in the council arms as an escutcheon upon the vessel.
Useful Links